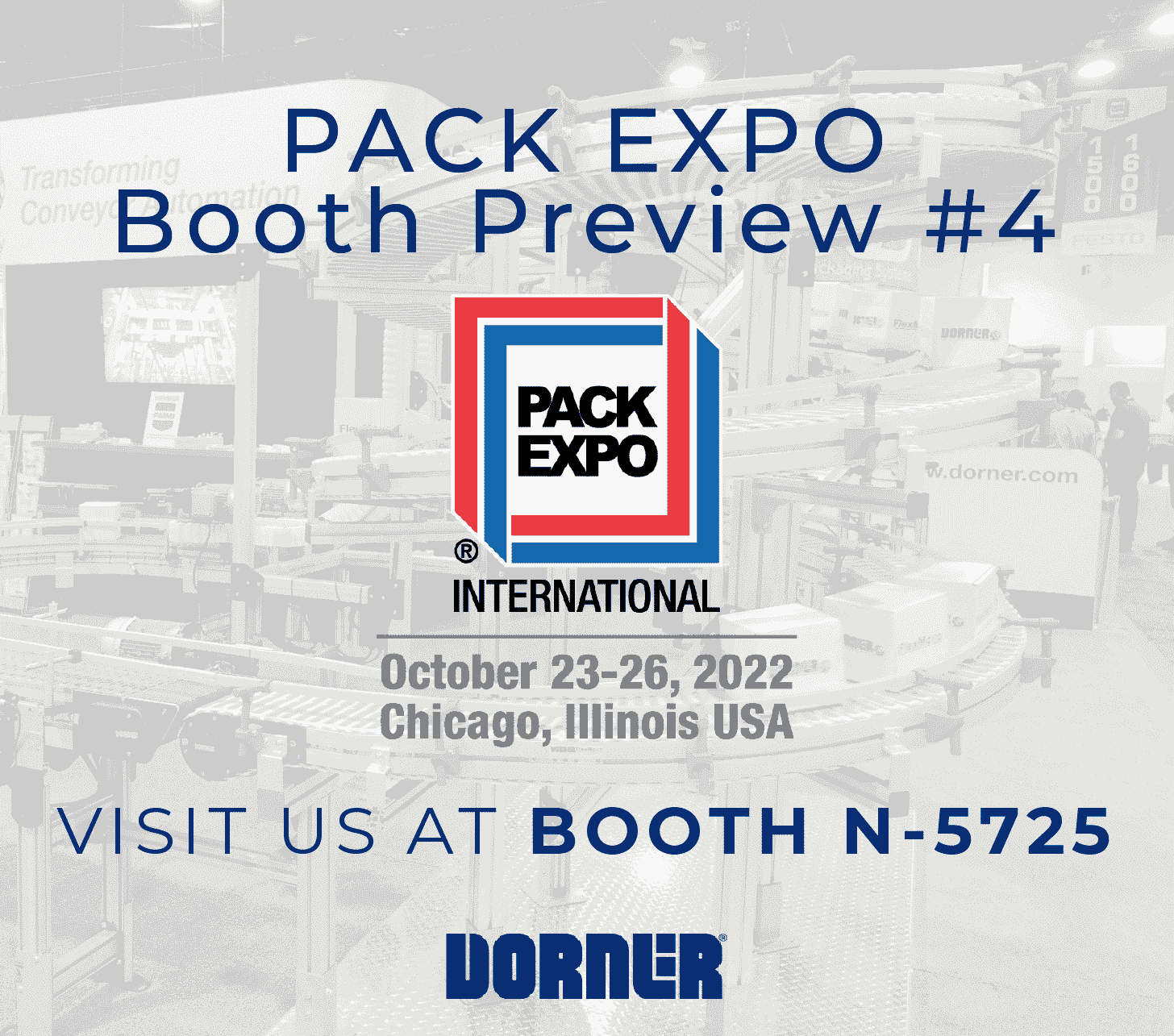 No matter what industry you're in, you won't want to miss Dorner's booth at Pack Expo 2022. We've covered the industrial material handling and food industries, now it's time to take a look at our conveyor systems designed for packaging and logistics.
Packaging Loop
Our newly updated packaging loop demonstration shows off a variety of different conveyor systems designed for the packaging industry. From sorting and diverting to labeling and positioning, our conveyors will meet the needs of almost any industrial packaging application.
ARB Conveyor
Dorner's ARB conveyor combines Intralox ARB (activated roller belt) with our durable aluminum frame. The ARB belt works with rollers built into the belt that move in a different direction from the rest of the belt when a product hits a barrier. The ARB is great for quick and effective 90-degree transfers, as well as turning or repositioning product.
Specs:
2″ pitch ARB Chain
Widths: 8″ (203 mm) to 60″ (1524 mm) in 2″ (51 mm) increments
Lengths: Minimum 3 ft (914 mm)
Speeds: Up to 150 ft/min (46 m/min)
No adjustment needed for different size products
2200 Powered Side Guide Divert
From the ARB, packages move through the 2200 Powered Side Guide Divert. This powered diverting arm utilizes Dorner's compact 2200 conveyor as a plow to easily direct product as it moves down the conveyor.
One of the main benefits of the 2200 Powered Side Guide Divert is that combined with the ARB conveyor, it can easily divert different size products without the need for adjustments or changeovers between different products. Additionally, the powered divert means that the arm can be adjusted to a wide range of angles while still offering the same accuracy in product diversion.
FlexMove Side Acting Merge
Next, the Side Acting Merge is a FlexMove module designed for two-to-one lane merging without the need for control logic. This completely mechanical module creates a first-in, first-out merge to efficiently align product for the next step in processing.
This module can be adjusted for varying heights and lengths, and it is easy to modify the force required to activate the diverting arm. Most importantly the FlexMove Side Acting Merge is designed for operator safety and does not require guarding to operate.
Belted ERT
Finally, we have the Belted ERT Conveyor. This conveyor system utilizes Dorner's patented Edge Roller gear drive technology to allow custom configuration of the number of pacing belts and lengths required by the application.
The Belted ERT is ideal for pacing packaged product to prepare them for the next step in the packaging or sorting process. With a simple pre-configured 24VDC driven motor, this conveyor is efficient and can be easily integrated into an existing conveyance system.
Stop by Dorner's Booth at Pack Expo
We can't wait to see you at Pack Expo October 23rd-26th! Stop by booth N-5725 to see all of the top-of-the-line product that we have on display this year. Our team will be standing by to answer questions and help you find the perfect precision conveyor for your application.
See you at the show!